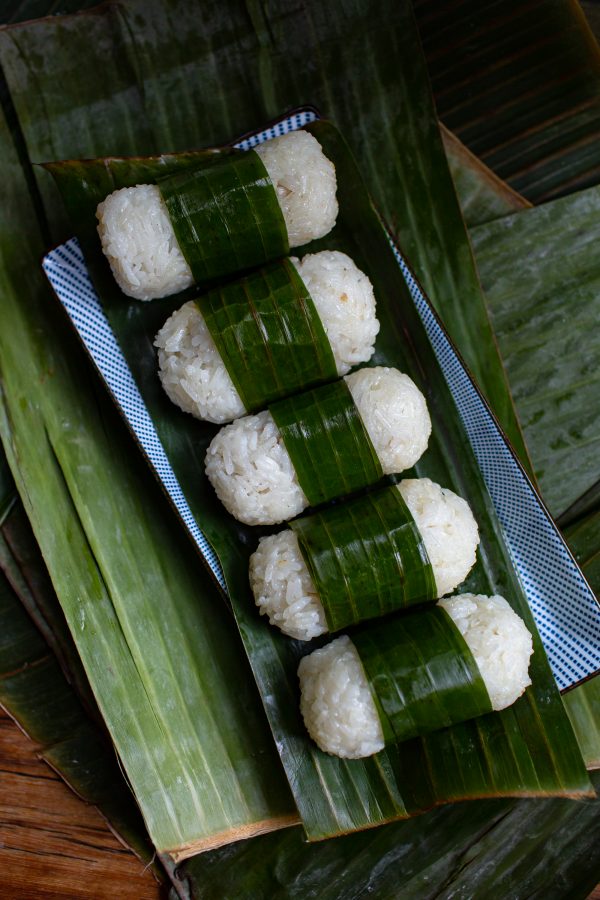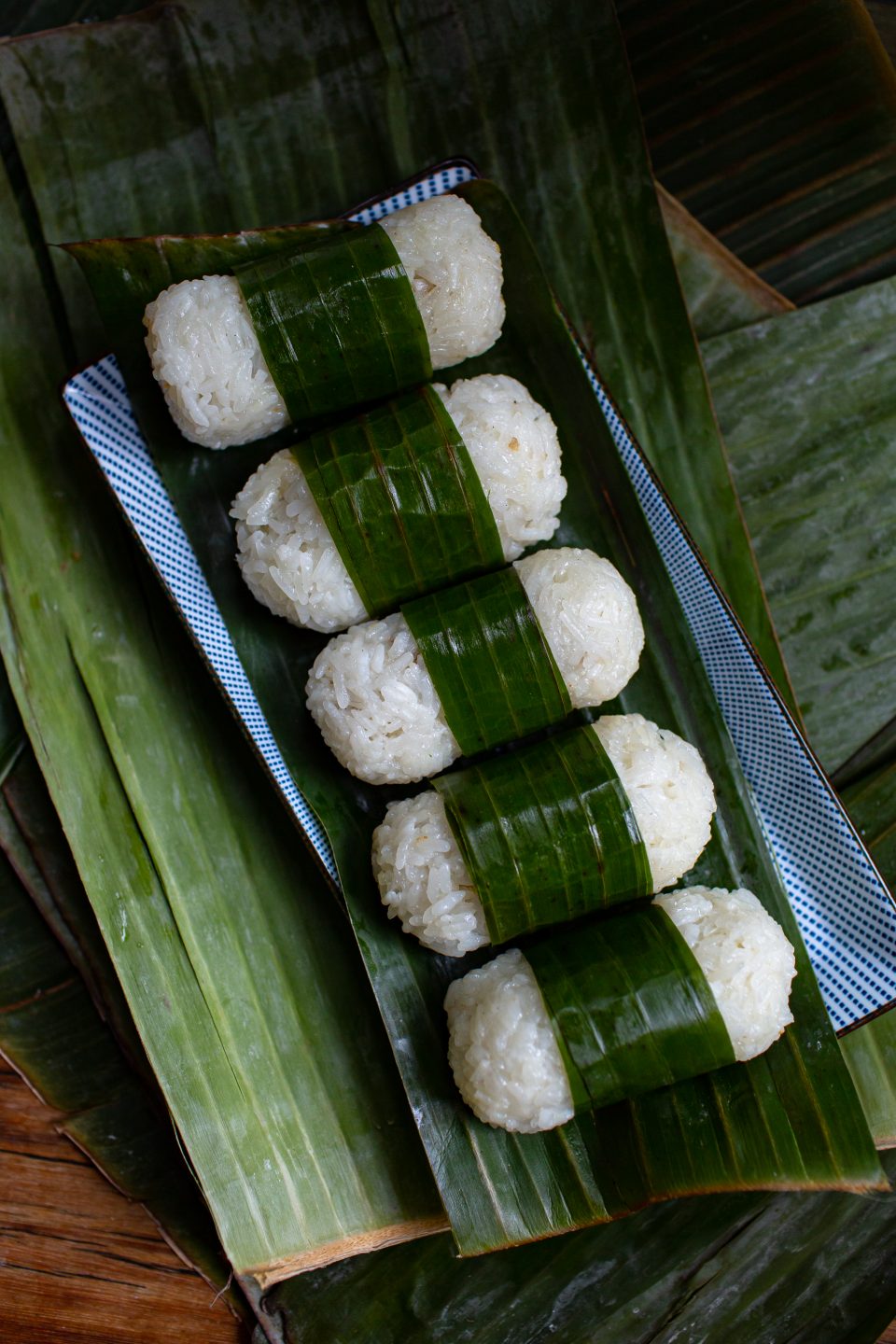 Prep time: | Cook time: | Serves 4-6
Coconut Sticky Rice
500 gr white glutinous rice (soaked for at least 4 hours)
300 ml coconut cream
200ml water
3 lemongrass sticks
4 pandan leaves – knotted
2 tsp chicken stock powder
Chicken Filling
500 gr chicken breast
100 ml coconut cream
2 tsp ground coriander
2 tsp ground galangal
2 tsp ground cumin
1 tbs tamarind paste
1/2 onion finely diced
2 tsp white ground pepper
2 tsp salt
2 tsp sugar
Wrapper strip.
1 big sheet of banana leaf
Coconut Sticky Rice. In a medium size pot add coconut cream, water, lemongrass sticks and knotted pandan leaves. Bring it to a boil over medium heat then add in the soaked glutinous rice and chicken stock powder.
Turn the heat to the lowest setting. Stirring continuously to avoid rice sticking to the bottom of pot, cook the glutinous rice until most of the liquid is absorbed. This might take about 20 minutes.
Move everything from the pot into a heatproof bowl and steam it over medium heat for about 40 minutes.
After it's done, turn off the heat and leave the steamed sticky rice in the steamer to cool down just slightly. You want the sticky rice to be still warm when shaping it.
Chicken Filling.
Poach the chicken breast in water or you can use leftover roast chicken. Once cooked, pull the chicken into thin strips like a floss or finely mince it.
On a frying pan, lightly fry the finely chopped onion with some cooking oil on medium heat until it caramelises.
Mix in the tamarind paste, all of the ground spices, salt, sugar and pepper. Keep frying until fragrant.
Mix in the prepared chicken breast floss and the remaining coconut cream. Keep stirring until every ingredient is mixed well together then set aside to cool down.
Assembling the Lemper Ayam. Wash the banana leaf thoroughly, pat dry with tea towel then cut into strips (3 cm wide x 10 cm long). To shape the sticky rice, you may wear a pair of food grade gloves to avoid sticking. Take about 1-2 table spoon worth of steamed sticky rice and shape it into a 1cm thick round dish on the palm of your hand and fill the centre with the chicken floss mixture. Close up the remaining sticky rice around the edges to form an oval. Keep shaping the oval using palm of your hands to achieve desired shape. If your hands get too sticky, coat with some water in between moulding. Wrap the sticky rice balls with the banana leave strip to hold it together.
Serve on its own or with some spicy Indonesian sambal and kecap manis.